Sunday April 22
Sunday, we went to the country, that is, Parc des Buttes-Chaumont, in northern Paris to meet with two of her friends, one with a toddler.  As my daughter hadn't had breakfast, we stopped in a cafe that offered brunch, Le Ju' on Rue des Archives  There was a line waiting to get in which we thought bode well.  Not so. The brunch was fixed, no choices: a plate of tired croissants, scrambled eggs, not so bad, a hamburger, why, and a fruit bowl.
We took lines 5 and 7 on the metro, found her friends, and strolled the few blocks to a park entrances. Given we had a toddler in tow, we made our way to a sandbox.  I walked with one of the  women and managed to converse in French for almost 15 minutes ranging from what I was doing in Paris, the difficulty of working from home, and the challenge of selling art- she curates and sells paintings. Being a generous soul who speaks beautiful French,  she practiced great patience with my tense difficulties, lack of proper articles, and general mispronunciations.
After several pleasant hours watching children play and battle in the sandbox, we went back to Odeon.  We thought we would try Polidor for dinner.  But the restaurant was hot and smelled of roasting meat.  Although seated, we left before ordering much to the disgust of the waitress who let us know that she found our behavior intolerable.
On to Le Pre Verre near the Sorbonne- closed.  We had passed a pretty art deco restaurant on Rue Racine, a bit formal, but since we were starving, it didn't matter where we eat as long as it was soon.
An hour and a half later, we were still hungry.  The food was inedible: a first course of cold pumpkin soup with a dollop of creme fraiche had no flavor and an unpleasant texture.  My daughter warned me that the soup would predict the quality of what was to follow.  So true.  The steak described on the menu as selected by Monsieur So and So, nominated as the best butcher in France, was so tough and dry, I could barely cut it much less eat it.  The waiter seeing full plates each time he whisked them away didn't insult us by asking if we wanted dessert.  Later we discovered that Bouillon Racine is a well-known, respected, and historic restaurant. Incroyable.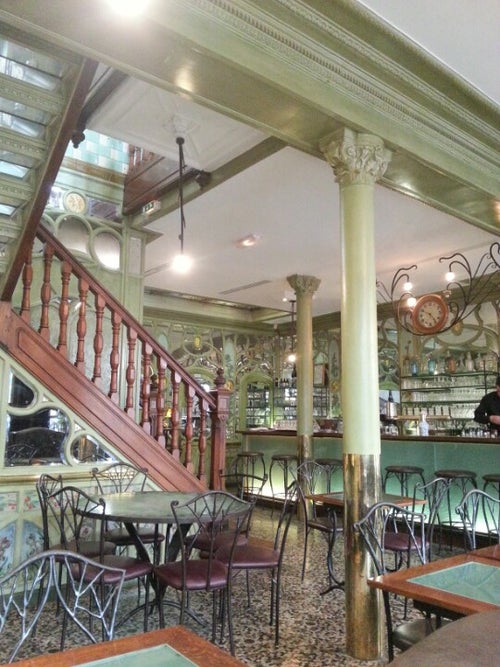 To make sure we ended the evening on a good note, we returned to the familiar Les Editors for cafe gourmand and Armagnac.
Monday, April 23
Monday found us walking on the right bank.  On our way to one of her favorite stores, Merci, we walked through Les Halles.  The last time I visited was during the early morning hours, the area crowded with crates of fruit and vegetables.  I finished the night by having onion soup in a small restaurant on the edge of the market.  Au Pied du Cochon is still there, but instead of a market, there are benches and greenery.  Finally, we reached Merci and managed to covet something in each department.  Downstairs, a restaurant faces a courtyard, and Mon Dieu, finally, good food: excellent soup and salad, accompanied by a tart rose.
Next, Place des Vosges for apero (aperitif) with two more of her friends, a woman and man she had worked with when she taught English to business clients.  Her American friend is married to a French man and is now a French citizen; the fellow is married to a French woman and is a novelist.  We had lots of laughs and a discussion about which bank is in, right or left.  I opted for the left.  In the past, I only spent time on the right bank when I sold newspapers on the Champs Elysees.  My daughter and her friends all hail from the right and insisted that the left bank is over, passe.  As her American friend put it, "I never cross the river."
We parted in time, we thought, to get to the restaurant, Poulette, where we had dinner reservations.  We soon realized we weren't going to make it on foot, so we took a bus.  Another altercation between French citizens.  The bus got stuck behind a garbage truck; consequently, the ride was stop and go.  The passengers began asking the bus driver to let them off.  My daughter said that the French can get very cranky if they are late getting home for dinner.  But the French have rules and one is that bus drivers can only stop at bus stops.  Otherwise, the driver gets a hefty fine.  One young man was undeterred, demanding again and again that the driver let him off.  Finally the driver stopped the bus, stood up, faced the fellow, and told him to stop the harassment.  The passenger made faces and rude remarks- it seemed they might come to blows, but an older man stepped in and defused the situation.
Poulette turned out to be a fine choice.  Beautiful tiled walls, delicious fish, and mashed potatoes so rich in butter, they were yellow.
After walking 10 miles over 12 hours, we called it a night and had a tearful good-bye in the lobby of Grand Hotel des Balcons.